EXECUTIVE DIRECTOR, ARTURO GONZALEZ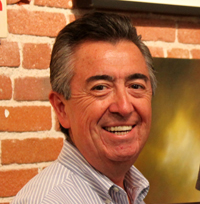 Arturo Gonzalez is a veteran of Los Angeles City government having worked for five councilmembers over the last two decades.  His service has given him extensive city, county and state government contacts and he has attained a thorough understanding of what it takes to successfully work with elected, business, communities and faith-based organizations.
In addition to serving in local government, Arturo's experience in radio and network television honed his natural communications abilities.  He successfully established two national radio news network operations and served as the Manager of Publicity for Warner Bros and Sony's Latin American Division.
In his early career Arturo worked for the Southwest Voter Registration and Education Project where he supervised a six-state region of the western United States.  He was responsible for organizing 22 voter registration projects resulting in the registration of over 18,000 new voters.
Arturo served as Councilman Huizar's District Director for Downtown.  He was responsible for the implementation of the councilman's community agenda and supervised all community and special events held within the district.  His focus was addressing and resolving all constituent concerns related to general and quality of life issues.  Arturo used his many contacts and resources to implement numerous successful community improvement programs.
Arturo ended his tenure with the City with Councilman Reyes where he served as the Councilman's Senior Advisor.  His extensive knowledge of the way the City of Los Angeles works served to expedite and resolve outstanding projects for the district as well as addressing unresolved constituent concerns for the five council areas he has served.
We are thrilled to have coaxed him out of retirement to serve the Arts District once again.
AWARDS
2012  Artsy Award for Outstanding Service to the Arts District Community LARABA
1996 Man of the Year, Latino Leukemia Society
1988 Recipient of United States Justice Department Community Award
1990 Golden Mike recipient ("The Right to Kill" a Death Penalty series) 
1985 Los Angeles City Council Humanitarian Award (Earthquake Relief in Mexico)