Project Monarch LA gets a shout by the Daily News for Earth Day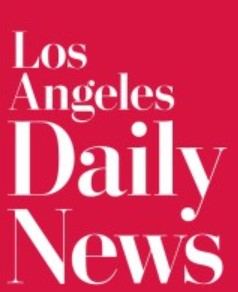 The Arts District Community Council Los Angeles (ADCCLA) and other environmental groups and leaders participated in a successful Earth Day effort to enlarge a butterfly habitat at the Los Angeles State Historic Park near Downtown L.A., to help monarch butterflies breed and thrive.
Project Monarch LA is a project of ADCCLA, the fiscal sponsor led by founding member Laura Velkei, who explains that her idea was inspired by the popular People's Kite Festival held at the L.A. State Historic Park. That made her ask, "How do you use nature to show the importance of nature, parks and viewsheds? I then got the notice that the monarchs had been placed on the IUCN (International Union for Conservation of Nature) endangered list."
Months ago, Velkei was talking with ranger Luis Rincon, who is involved in community engagement at L.A. State Historic Park, "when a butterfly floated by." Velkei said. "We honestly looked at each other, and I said, 'Could we?' In September, Luis did a test planting at a park testing site, and he sent me a photo of a monarch caterpillar from that planting."
The growing movement in Southern California aims to help monarch butterflies fight a long-threatened extinction by creating crucial milkweed habitat — a required environment for the caterpillars that turn into elegant monarch butterflies.
By Earth Day 2023, volunteer groups had planted 664 narrow leaf milkweed plants at L.A. State Historic Park, Velkei said. Volunteers also planted 150 "companion plants" that help create an ecosystem healthy for milkweed and butterflies.
How to get involved:
The project hopes to inspire Southern Californians to become advocates and educators. A monthly newsletter promotes volunteer tasks and updates.
Volunteer at: projectmonarchla.org/become-a-hero
Partners and collaborators of the Project Monarch L.A. effort include Los Angeles State Historic Park (LASHP),California State Parks Foundation, Arts District Community Council L.A. (ADCCLA), Los Angeles River State Park Partners (LARSPP), Santa Monica Mountain Fund, Monarch Watch, National Parks Service and El Nativo.
Supporters include Highland Park Brewery, Sweet Greens, Garden School Foundation, La Monarca Bakery,Homeboy Cafe, Target, SoCalGas and REI.